Hello all! So I know I'm a bit late posting on this, but did you all catch the grammy's? I sure did and I loved it!! I sadly nissed the red carpet but was redeemed with the ever hilarious Fashion Police. I was expecting just a tiny bit more performances, such as Empire State of Mind by alica keys!! *sad face* But it was great, nonetheless. :] Anyway, here are my nominee's for best dressed! :D
1. Pink-She looked STUNNING!! Not sure about who the designer was but I love everything about this look right down to the hair jewel!!
2. Keri Hilson-Dolce & Gabbana. I love this colour on her and I love this dress. It was on Crystal Renn in The Feb issue of Glamour Magazine. She looks great!
3. Rihanna-Eli Saab. I LOVEDDD this dress! It was straight off the runway and it worked both times. I adore the bold shoulders aligning with the bold hips, the draping, the feathers..she looked stunning and very cool!
4. Taylor Swift-Kaufman Franco. She looked so jaw-droppingly gorgeous and glamourous! She really looked like a star. That color is gorgeous on her pale skin, and the geometric shoulders are very cool and Grammy worthy! She did this right. And congrats to her for all of her awards! She finally got her big night on stage that she always deserved! No kanye there to ruin her moment. haha,
1. Lea Michele-Ramona Keveza. Young, fresh, pretty...The sheer part at the top, to the one shoulder, to the feathers..everything was chic. good job Lea.
2. Jennifer Hudson-Victoria Beckham. This was one of the best looking red carpet ensembles for her! She was so beautiful and just glowing. Can you elieve she just had a baby?! She looks better than before she was pregnant. Fuller figured girls everywhere, take a cue and note the silhouette here! Form fitting pencil skirt+little jacket+peplume=Always flattering!
3. Miley Cyrus-Herve Leger. I wasnt sure about this lok at first, but I think she looks perfect and cool for the grammy's. She's stepping out and wants to be taken as a serious artist. She looked like a rock star!
4. Fergie-Emilio Pucci. I wasn't crazy at first about this dress, either. However, the colour was great on her and the gunmetal snake-y accent was the right touch. She was workin in that dress!
5. Heidi Klum-Emilio Pucci. I loved this dress! The colour was right, the sparkle was right, and the huge butterfly knuckleduster-which you cant see here-was too fab!!
*Sigh* What can I say? I'm googoo for Gaga!
I don't care if people thinks she looks crazy. Had she of worn anything else...something normal...she would have been so ripped alive. She stayed true to herself...she is a genius and a performer-and definately a best dressed nominee in my opinion. Armani custom designed the red carpet dress for her and she worked it. It was art! She normally does halloween-costume type things on the red carpet, but she looked beautiful and soft here. Her hair and makeup looked adorable.
I also LOVED her performance!!! She ROCKED!!!!!!!!
The green was amazing and her finale performance with Elton John was perfect..she is in fact the female equivalent to Elton. Bravo, Lady.
Next up,
B.E.Y.O.N.C.E.
She was fabulous in every look! Her red carpet gown was haute couture and she looked so lovely right down to the little glittery hair strands!
Then, oh then, she poured her heart and soul into the ASTOUNDING performace she gave during the show! It was absolutely the best version of If I Were a Boy that I've ever heard and seen! She gave everything she had. It was quite moving. Her dress was hot and those Balenciaga shoes are to die for! Then, her sparkly puff sleeved dress was stunning, as well. Beyonce was perfect.
Now, my dears, we canst discriminate; FashionTenn doesn't allow it. :] What would a best dressed list be if it didn't include MEN! Here are the dapper gentleman nominated by me for Grammy's 2010 best dressed list...CAUSE EVERY GIRL CRAZY BOUT A SHARP DRESSED MAAAN! ;)
1. Usher-This mayne is too fly here. *yes, I said FLY* Nothing short of fashion forward and Grammy appropriate. I believe he was wearing Armani. It was fabulous in the new neutral trend and Guys..take note..it's the new thing to mix and match patterns. Here, he did a gingham shirt with a patterned tie and patterned ascot pocket kerchief. But the *key* to this trend is to make sure the colours in the mix matched patterns MATCH.
2. John Legend-Prada. I simply like this suit. Cool. Grammy apro. He donned a mesh vest and I thought it looked great with his ensemble.
3. Adam Lambert-Dolce and Gabbana. I'm glad he did something different and grammy appropriate...The sequined jacket is very cool..but it's the only part of his outfit that makes it onto the best dressed list...Im gonna go ahead and agree with Fashion Police and state that he looks like a gay colonel sanders. The old timey bow tie is *blech*
4. Seal-This man is so classy! He looked amazing. and formal but cool. I think he's almost always best dressed.
5. Nick Joe or Kevin Jonas- I can never tell which one's which..but I thought he looked seeexxaayyy in those glasses. I was definately burnin up for him. ;p
6. Justin Beiber-Dolce and Gabbana. *sigh* Shoot me now because I can't stand this little kid. He is not a doll in my opinion, he just annoys the CRAP out of me. Im sorry...BUT he looks so adorable here in his little outfit. I love the leather detail on the lapel of the vest. He was definately fashion forward here and it was only his first go-round. Kudos to you, Justin!
NOW, for some great moments of the night! I couldnt resist.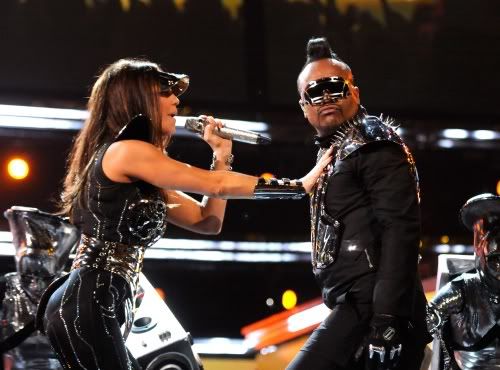 Black Eyed Peas rocked it. They werent particularly on top of their game vocally through the whole performance, but they looked amazing!!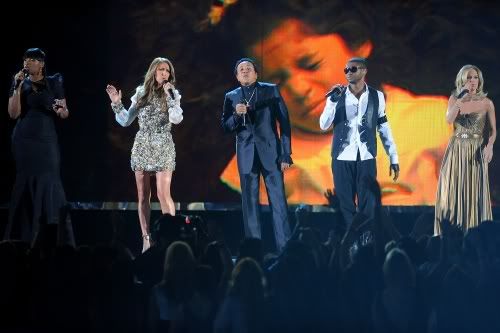 Michael Jackson Tribute! This almost brought a tear to my eye. The song was amazing and the stars looked fabulous. They did the song justice. Then, when his two children walked out, I almost broke down. It was beautiful.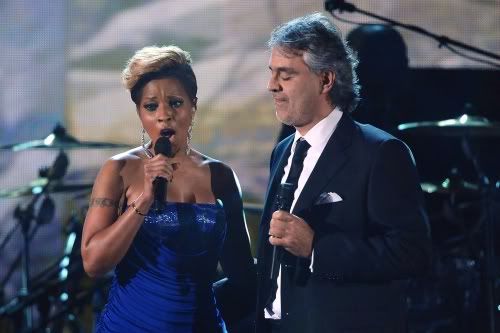 Mary J. Blige and Andrea Bocelli rocked the house for Haitian Relief. They did wonderfully and Mary redeemed herself with this dress, because I hated her red carpet dress.
And there you have it, dears. This year's Grammy Best Dressed List! :]
Stay tuned for a worst dressed list and as always,
Stay Fabulous!
Au Revoir!
xoxo
Madison