Hey babes. I know youre all excited and in such an uproar over the olympics and fashion week that you are about to rip all your clothes off and luge down to bryant park and strut your stuff down a runway or two-you'd really give new meaning to the '"nude colour trend'. Well, wild thing, keep your clothes on; IM JUST AS EXCITED AS YOU ARE AND I CAN BARELY CONTAIN MYSELF. :] We can't have me giving into peer pressure and ripping another skirt. Ive got something to appease that insatiable hunger for now...
First, Lanvin's Pre Fall 2010 line...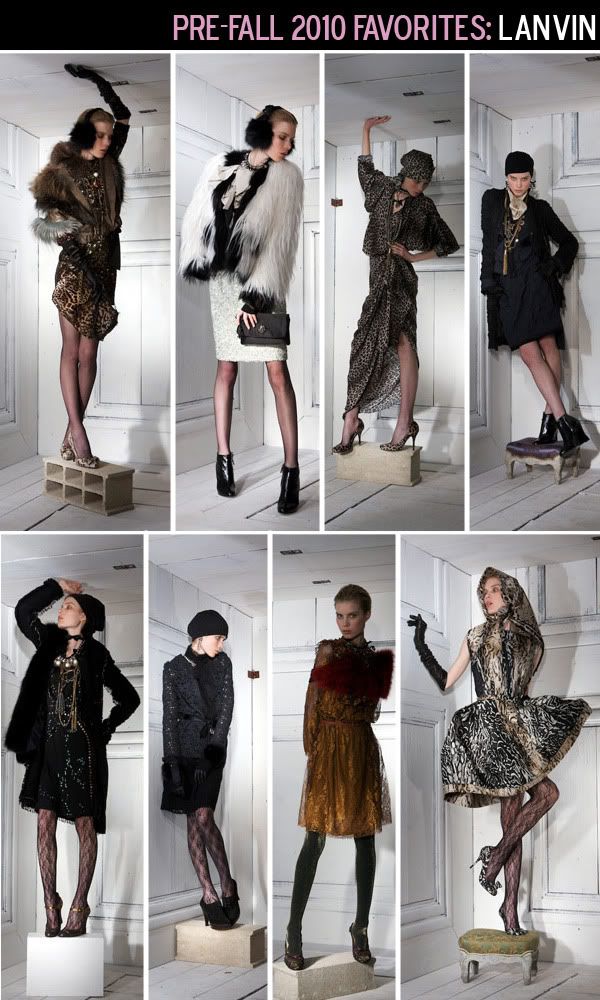 Cant WAIT to see whats in store for Fall '10. I heart Lanvin!!
Next, get into Zac Posen with a forties flair. His recent buzzed about financial worries kind of shows but it sure didnt stop his genius. "There wasn't a single gown on the runway. That must be tough for a designer in love with ball skirts and shoulder flourishes, but in their absence, he injected more than a fair bit of showmanship into the sportswear; colorful furs; and short, flirty party dresses that were this upbeat collection's focus."
Whether people give him criticism or praise, I just adore him. So fresh and young. I was literally oo-ing and ahh-ing in my mind. You did me proud, Posen.
*Ladies, He put a brooch on the waistband of his trousers. Im digging that.*
Fun, Fun. Im always into hot pink tights but Ive been craving colours for fall and winter. Ive been sick of greys and black. I know, fellow bloggers, shoot me. Thats all people seem to wear these days.Weellllll I dont care. However, I'll probably end up seeing a show that features somber colours-like my previous Donna Karen post-and die all over the place. LOL. I have alot more shows to go. And alot more cleaning to do. *groan* Until next time, loves.
Ciao
xo
Madison
P.S>Shout out to some fabulous young ladies in my hood, Tennessee. Yeah thats right, I said hood. Anyway, I just found out that I have these particular faithful readers and almost cried. Im such a baby. LOL. You all are beautiful!!!! Thank you so much! It means the world to me. Happiest Fashion Wishes to you! Maybe we can go shopping someday. :]